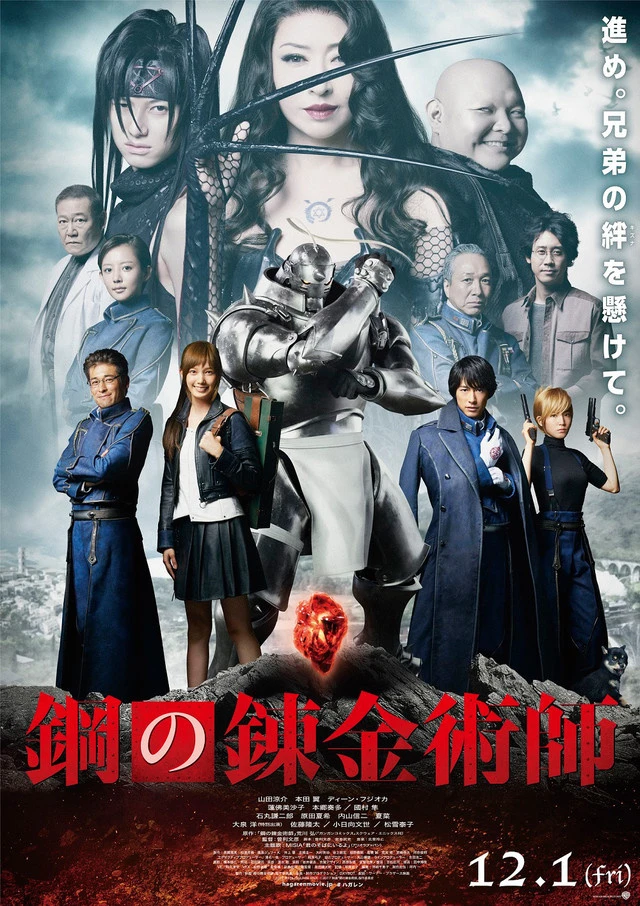 A new trailer was just released for the long-awaited live-action adaptation of Arakawa Hiromu's Fullmetal Alchemist!
The plot is one fans will be quite familiar with: Edward and Alphonse's search for the fabled Philosopher's Stone. Premiering on Dec. 1, MISIA's "Kimi no Soba ni Iru yo" will be used as the film's theme song.
Arakawa had high praise for the upcoming adaptation, remarking that it was beyond enjoyable and left her in tears by the time the credits started rolling! Park Romi and Kugimiya Rei, who both played Edward and Alphonse in the anime, also had nothing but good comments about the film.
The rundown of the main cast is:
Yamada Ryousuke as Elric Edward
Honda Tsubasa as Rockbell Winry
Dean Fujioka as Mustang Roy
Renbutsu Misako as Hawkeye Riza
Satou Ryuuta as Hughes Maes
Oizumi Yo as Tucker Shou
Matsuyuki Yasuko as Lust
Hongou Kanata as Envy
Shinji Uchiyama as Gluttony
Seven years have passed since fans of Fullmetal Alchemist have been treated to a new work, with the FMA: Brotherhood anime ending in 2010. What are your impressions of the upcoming film?