A second trailer for the upcoming premiere of the TV anime series The Seven Deadly Sins: Revival of the Commandments has been released!
The opening and closing themes have also been confirmed as "Beautiful" by Anly and "Howling" by FLOWxGRANRODEO, respectively. Check out the trailer below for the new season, which is scheduled to kick off in Japan on Jan. 6, 2018!
Revival of the Commandments will still be produced by A-1 Pictures, but the director's chair has gone to Furuta Takeshi. Series composition will be handled by Yoshioka Takao. Along with the beloved cast from the first season reprising their roles, there will also be over 10 new characters joining the show, meaning more cast announcements to come!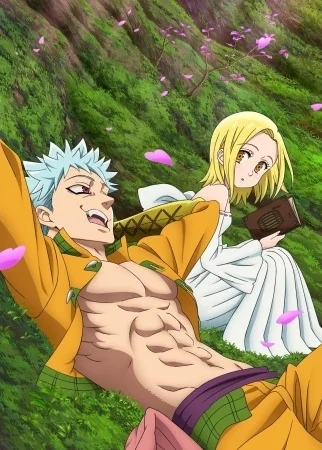 If the beginning of the year seems just a bit too far away, a side-story titled The Seven Deadly Sins: Bandit Ban is scheduled for a fast-approaching premiere of Dec. 23. The story revolves around the fateful meeting that brought Ban and Elaine together.
summary of the plot
"In a world where humans and non-humans have not yet been separated, the kingdom of Leones is protected by the Holy Knights, powerful magic users both revered and feared by the people. Supposedly the strongest, most fearsome of these knights, the Seven Deadly Sins, betrayed the kingdom and made enemies of all the other knights. Princess Elizabeth doesn't believe this story, and sets out to find the Sins – but when she meets the first Sin at a tavern, his name is Melodias, and he's nothing but a boy in charge of the pigs."
The Seven Deadly Sins anime Season 2 – cast
Meliodas: Yuki Kaji
Elizabeth: Sora Amamiya
Hawk: Misaki Kuno
Diane: Aoi Yuuki
Ban: Tatsuhisa Suzuki
King: Jun Fukuyama
Gowther: Yuuhei Takagi
Merlin: Maaya Sakamoto
Gilthunder: Ryohei Kimura
Howzer: Ryohei Kimura
Griamor: Takahiro Sakurai
Hendriksen: Yuya Uchida
Dreyfus: Katsuyuki Konishi
Escanor: Tomokazu Sugita
Matrona: Rina Sato
Zeldris: Yuki Kaji
Estarossa: Hiroki Touchi
Galand: Hiroshi Iwasaki
Melascula: M.A.O
Drole: Daisuke Ono
Gloxinia: Yuusuke Kobayashi
Monspeet: Kenjiro Tsuda
Derieri: Ayahi Takagaki
Grayroad: Koji Yusa
Faraudrin: Katsuyuki Konishi
The Seven Deadly Sins anime Season 2 – staff
Original Work: Nakaba Suzuki
Director: Takeshi Furuta
Assistant Director: Yomoya Yanaka
Series Composition: Takao Yoshioka
Character Design: Kento Toya and Keigo Sasaki
Music: Hiroyuki Sawano and Takafumi Wada
Chief Animation Director: Kento Toya and Tetsuya Kawakami
Action Director: Ryuuta Yanagi
Prop Design: Haruo Miyagawa
Color Setting: Takahiro Mogi, Nanako Okazaki
Art Director: Hiromichi Ito
Background Art: Iho Narita
Director of Photography: Toshiya Kimura
CG Director: Masaru Karube
Editing: Masahiro Goto
Music: Hiroyki Sawano, Kohta Yamamoto and Takafumi Wada
Sound Director: Kazuhiro Wakabayashi
Animation Production: A-1 Pictures