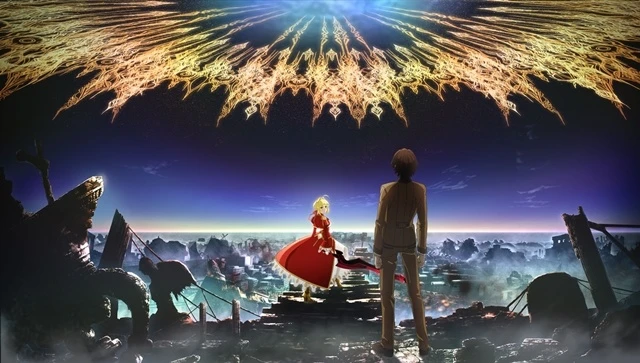 There are plenty of great anime continuing into the new winter season, but there are also a few brand new series each hoping to become your new favorite. From the latest instalment in long running franchises like Fate/Extra, to cute slice of life series like Sanrio Danshi, and a new giant robot series from the creators of Kill la Kill, there's certainly something for everyone.
Fate/EXTRA Last Encore
An adaptation of the popular Fate/Extra video game, Last Encore is the latest anime instalment in the Fate franchise. Hakuno Kishinami wakes up in a mysterious virtual world and has no idea how he got there! Forced into a deadly competition for the right to have one's wish granted, Kishinami has only his "Servant" to rely on in his quest to regain his own identity. Follow his adventures from Jan. 28.
FGO Fes. 2017にて解禁されたコンセプトビジュアルを使用してサイトをリニューアル!是非ご覧ください!https://t.co/vBw1bEvw21 pic.twitter.com/VvPtFK8Icu

— FateEXTRA_LE (@FateEXTRA_LE) 2017年8月21日
Idolish Seven
Based on the popular rhythm game, Idolish Seven is the story of the titular seven member idol group, Idolish7, and their manager Takanashi Tsumugi as she tries to take them all the way to the top of the charts! Episodes 1 and 2 will air as a New Year's Day special with regular broadcasts from Jan. 7.
Also known as Sanrio Boys, Sanrio Danshi is a tale of love and friendship among character loving high school guys! Hasegawa Kota loves Purin the cute yellow dog while Mizuno Yu loves the bunny My Melody. With Yu's help, Kota finally learns to accept that there's nothing shameful about his love of cuteness in this warm hearted slice of life anime airing from Jan. 6.
Koi wa Ameagari no You ni
An adaptation of Mayuzuki Jun's popular manga, Koi wa Ameagari no You ni is the story of 17 year old Tachibana Akira who finds herself falling in love with the 45-year old manager of the restaurant she works at part-time. While the exact date is still to be announced, it will begin airing in January.
Inspired by the light novel series written by Akatsuki Kana and illustrated by Takase Akiko, Violet Evergarden is a science fiction anime centred on the existence of "Auto Memory Dolls". The Auto Memory Dolls were originally created by a scientist in order to help his blind wife write novels by turning speech into text, but a mysterious organisation has adapted the technology to create an army of female Auto Memory Dolls with military capabilities. This promising new anime airs from Jan. 10.
DARLING in the FRANXX is the long awaited new project from Kill la Kill's Studio Trigger and A1-Pictures, to be aired sometime in January. Set in a distant future when the surface of the Earth has been ruined and humanity lives in a mobile fort called Plantation, the series follows the adventures of the children who live to battle the mysterious Kyoryu by piloting giant robots called FRANXX.
Adapted from the light novel series written by Hase Satoshi and illustrated by Redjuice, BEATLESS is a science fiction anime in which 17 year old Endo Arato encounters Lacia – an ultra AI enhanced being, and sets on course to discover why exactly these artificial beings were created. Airs from Jan. 13.
An adaptation of the light novel written by Kisaki Chiaki and illustrated by Ichiiro Hako, Hakata Tonkotsu Ramens takes place in Fukuoka – a city well known both for tasty ramen and the yakuza. Gangsters, detectives, informants and professional killers mingle in Hakata, but the word is out that a top hitman known as "Killer of Professional Killers" has recently arrived in town. Hakata Tonkotsu Ramens will air from Jan. 12.
Karakai Jouzu no Takagi-san
An adaptation of Yamamoto Soichiro's manga, Karakai Jouzu no Takagi-san is a romantic comedy in which high school boy Nishikata is mercilessly teased by his seat buddy, Takagi-san, and vows that someday he will get his revenge and finally make her blush! For those who are keen to see plenty of adorable moments between the two, tune in from Jan. 8.
Adapted from Tokeino Hari's manga, Gakuen Babysitters is the story of Ryuichi and Kotaro – two brothers who are orphaned when their parents are killed in a plane crash. After being taken in by the chairwoman of the Morinomiya Academy (who lost her own children in the same accident), the boys find themselves working in the school's daycare department as part-time babysitters! See what shenanigans they get into from Jan. 7.
Whether you're into giant robots, sci-fi adventure, good old fashioned romance or a spot of crime, the anime of Winter 2018 has you covered.